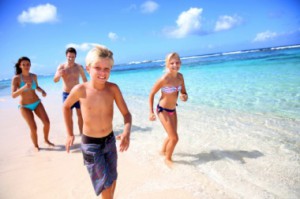 While the island of Ambergris Caye was once a hidden secret known only to savvy world travelers, it has become an increasingly popular destination for beach lovers from across the globe. As the popularity of this scenic island off the mainland coast of Belize grows, so too do the number of resorts and hotels on Ambergris Caye. To help navigate the many choices and pick the best resort on Ambergris Caye, this guide can be a great resource.
Look For a Variety of Room Types
One of the most important things to look for when choosing from the hotels Ambergris Caye has to offer is the variety of room types. A one size fits all approach simply doesn't work for travelers, and it might end up giving you less than you need or offering more than you want to pay for. Thankfully, many resorts offer a range of rooms that include amenities like wireless Internet, cable television, maid service and security.
At the Exotic Caye Beach Resort, guests can choose from a
standard one-bedroom room
, a
two-bedroom condo suite
, a
three-bedroom deluxe condo suite
and even a
lavish honeymoon suite
. These choices also make it easier to travel as a group or friends or with family.
Seek Out Onsite Activities
No matter how fabulous the accommodation might look, do some research to find out what kinds of activities and facilities are available onsite. Having amenities like a private beach, a fitness facility, an outdoor pool and access to a nearby marina are all things that allow you to spend less time traveling around the island and more time enjoying the activities that you love most.
Pick a Resort With Onsite Dining Options
One of the best parts of traveling to a new and exotic destination is trying out all of the local cuisine. On Ambergris Caye, there is a wonderful combination of international specialties and local favorites from Belize, Mexico and Guatemala. While it can certainly be fun to try out restaurants throughout the island, travelers often find it convenient to enjoy meals right at their accommodation. At the Exotic Caye, guests can dine at Melt Cafe or grab a drink at the Crazy Canuck's Beach Bar and Grill.
Read Reviews and Look For Staff Considerations
One of the keys to having a great stay at any hotel involves being treated well. To that end, travelers should read reviews and see whether staff are communicative, friendly and helpful. Thankfully, the island of Ambergris Caye as a whole boasts friendly, welcoming people that make travelers feel right at home.
So many choices can make picking the perfect hotel on Ambergris Caye a challenge, but clicking here can help.