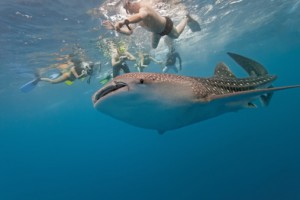 If you come to Ambergris Caye to relax, then you will have the time of your life lounging by the pools of the Exotic Caye Beach Resort, swimming in the refreshing ocean water and enjoying delicious gourmet meals al fresco in the sunshine. If you want to have the adventure of a lifetime, Ambergris Caye is still the best choice. If you love underwater recreation, you can try things like snorkeling or scuba diving through the many coral reefs surrounding the islands. Shark Ray Alley is the ultimate destination for
snorkeling on Ambergris Caye
.
The History of Shark Ray Alley
After just a day or two on Ambergris Caye, you will have undoubtedly heard of Shark Ray Alley. As far as animal dives go, this is one of the most popular destinations in the world. However, the sharks and sting rays that are so heavily concentrated in this area didn't always call the area home. In years past, local fishermen would clean their daily catch here, and over time nurse sharks and sting rays gathered in order to eat the scraps left behind. Today, it is primarily a snorkeling and scuba diving spot for travelers.
What You Can Expect in this Incredible Location
The best way to access this area is by boat, and it is located just south of the also popular Hol Chan Marine Preserve. Once you arrive, the local guides will throw chum into the water. This will attract the nurse sharks and the sting rays to you, and you can hop right into the water and mingle with these incredible creatures for an average of 15 minutes before they start to lose interest and head somewhere new. If you are careful and listen to your boat tour guide, this is completely safe and a once in a lifetime experience.
Snorkeling, Boating and Scuba Diving in Shark Ray Alley
Most people who visit this destination will snorkel, but scuba diving in Ambergris Caye is also popular. However, keep in mind that this area is quite shallow, and you won't be able to go to depths of more than 20 feet within the alley itself. You can also just ride the boat if you don't feel comfortable getting into the water with the sharks.
Having the opportunity to see and even touch sharks and rays up close is incredible. Ambergis Caye is one of the top places to snorkel or dive with these amazing underwater creatures.