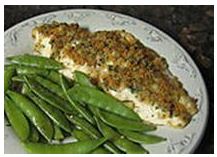 Ingredients:
• 2 red snapper fillets, about 6 to 8 ounches each
• 4 tablespoons butter
• 1 medium clove garlic, pressed or minced
• 3 or 4 drops Worcestershire sauce
• ½ teaspoon Creole or Cajun seasoning, or your own favorite seasoning blend, with salt
• 1/8 teaspoon fresh ground black pepper
• 1 to 2 teaspoons minced fresh parsley
• 1 teaspoon snipped fresh or frozen chives (optional)
• 3 to 4 tablespoons plain or seasoned bread crumbs
• 2 tablespoons freshly grated Parmesan cheese (optional)
Preparation: Place snapper fillets in a baking dish which has been sprayed with butter-flavored baking spray. In a skillet, melt butter with garlic, Worcestershire sauce, Creole seasoning blend, pepper, parsley, and chives, if using. Cook on low for 2 minutes, just to blend flavors. Brush both sides of fish fillets with the butter and herb mixture. Toss bread crumbs in the remaining butter mixture; sprinkle over the fillets. Bake at 400 degrees for about 12 minutes, depending on the thickness of the fillets, until fish flakes easily and is no longer translucent.